A Different Slant airs Mondays at the top of every hour on 1610 AM (4 pm on Marin Cable 26).
To see the all podcasts of A Different Slant click HERE.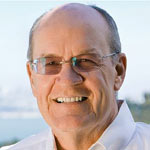 Host John Flavin. Photo by Tatiana Don.
A Different Slant is the only local radio show to offer a unique, in-depth understanding of key topics affecting Sausalito and Southern Marin. Each week, host John Flavin will uncover new facts and ask hard questions so listeners can stay informed on matters that have an impact on their neighborhood and their wallets. Welcome to A Different Slant.
To e-mail this host, see our Contact the Station page.