Barracuda By The Bay plays on Thursdays at 4pm and 8pm, and on Sundays at 8pm.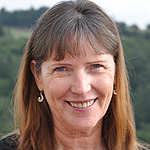 Host Barbara Clark. Photo by Michelle Clark.
For most people, the music of the 1970s was funk and disco. Barracuda by the Bay highlights the forgotten sounds of jazz from the decade of bellbottoms. Artists like Chick Corea, Herbie Hancock and Miles Davis were recording innovative music that was fun to listen to. But few, if any, stations still play '70s jazz. Radio Sausalito is thrilled to feature this music.
The show's host, Barbara Clark, DJ'ed at her college radio station back when this music was first hitting the airwaves. Her show features an eclectic selection of fusion, big bands, vocalists, and soloists as well as West Coast musicians and more. There are stories about musicians like Chuck Mangione, Freddie Hubbard, Vince Guaraldi, Bill Evans, and McCoy Tyner just to name a few.
Music has always played a key roll in Barbara's life. It was in college that she got introduced to jazz and was drawn to the cerebral complexity and wide range of styles being played by the big bands and jazz combos. A flautist, she has taken master classes with jazz greats Paul Winter and Paul Horn.
She moved to Marin in 1975, when jazz was right in the middle of significant change. Many new artists were joining together in groups like Weather Report and the Mahavishnu Orchestra. Different forms of music were being sewn together into a fusion of jazz and rock. Electronic instruments were being adopted by greats like Herbie Hancock and Pat Metheny.
At the same time, a different approach to music infused with nature called "new age" was being created by Paul Winter. These styles all share the '70s sound of integration and expansiveness. Welcome to Barracuda by the Bay.