*NOTE: This page is for staff members who do not have their own radio show. For profiles of our show hosts, see our Shows page.
Jonathan Westerling – Founder and President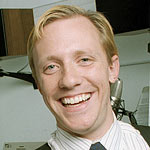 (Photo, Marinscope) Jonathan Westerling grew up in the small rural town of Harvard, Massachusetts, a town with literally a single traffic light and more apple orchards per capita than any other town in New England. From this bucolic upbringing, he journeyed to Cleveland, Ohio, where he played the bassoon and earned a Bachelor's in Musical Performance from the Cleveland Institute of Music, and an Bachelor's in Audio Engineering from Case Western Reserve University.
Jonathan has spent a lifetime in radio. At the age of 7 he started his first radio station called WXYZ using a Radio Shack Mr. Microphone in the living room. In middle school he graduated to working at NPR stations WICN in Worcester, Massachusetts and WCPN in Cleveland. And he has held positions in other stations around the nation including KYSL, WWUH, and WQFS.
He spent seven years producing at San Francisco's legendary KGO (ABC Radio), and was responsible for many of the most popular programs on the station. Jonathan founded Radio Sausalito in 2000 to provide the community with an on-air presence that had gone missing since San Rafael's KTIM went off the air in the '90s. Over the years, he has operated the station continuously and provided on air training and broadcast opportunities to hundreds of people from all over the Bay Area.
Jonathan is currently restoring the 1967 Jaguar MK2 previously owned by his friend, the late cartoonist Phil Frank. In his spare time (!) he works as a radio engineer at Google.
Open Position – Music Director
Jeff Macdonald – Vinyl Encoder
Radio Sausalito plays real 33 1/3 records which have been donated to our station. Jeff takes these records and makes sure their music is lovingly added to our library (pops and clicks included) so you can hear these original releases authentically. When he's not enjoying good music, he works as a CPA and plays hockey.
Open Position – Radio Engineer / Audio Engineer
Longtime station engineer Mike Larner passed away December 2017. For a tribute, see our former volunteers page.
If you like playing with electronics, consider contacting Radio Sausalito to become involved with our broadcasts!=
Open Position – PSA Announcer
Radio Sausalito supports non-profits in the community by airing thousands of Public Service Announcements (PSAs) every year. If you want to give back, consider recording PSAs for Radio Sausalito. Contact us to find out more!
Squints – the Studio Cat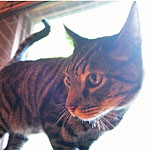 Photo by Court Mast
Squints oversees our production studio and facilities, and is considered by many to be the heart and soul of Radio Sausalito. He maintains a rigorous schedule — on site 24-7-364, the one exception being Memorial Day when he honors his previous eight lives. He welcomes each host and worker with his signature spondaic greeting, "Meeeeeow," and maintains a zen-like composure in a working studio often punctuated with exclamations of frustration.
Though untrained in the technical side of audio production, Squints has extremely sensitive ears and an uncanny sense of what makes a radio show click. With gentle direction, often a slight nod or blink, he provides subtle comments about each host's performance. These gestures can communicate the success or failure of a particular passage, giving valuable feedback and encouragement to the often tearful host.
Born to a large family, Squints is one of an extremely rare breed — a native Sausalitan. He has a love of all things aquatic, especially fish. Like everyone at Radio Sausalito, Squints receives no monetary remuneration for his services, but rather enjoys the spiritual benefits of the station's programming, the camaraderie, the sense of community, and the occasional dry cat treat.