Jazz Decades airs Sundays and Mondays from 4-5pm on Radio Sausalito (Monday from 4-5pm on Marin Cable 26).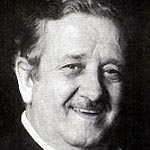 Host Ray Smith
Jazz Decades features traditional jazz, big band, and swing from the 20th century and earlier, including recordings from as early as 1890. Host Ray Smith has been the voice of Jazz Decades for more than 30 years, culling his programs from the more than 90,000 titles in his personal collection. Jazz Decades comes to Radio Sausalito from our partner radio station, WGBH in Boston, Mass.
On Friday, February 26, 2010, Ray Smith passed away at the age of 87. He leaves Marilyn, his wife of 61 years, three children and jazz fans everywhere. Ray came to WGBH in 1972 and over the next 38 years, he produced more than 1900 programs.
Ray first produced the Jazz Decades in 1958 for WKOX in Framingham, Massachusetts making the show one of the longest running programs in Boston radio history.
Ray was an accomplished drummer and a member of many traditional jazz bands including the Black Eagles, the Yankee Rhythm Kings, the Jazz Decades and the Paramount Jazz Band. For many years, he regularly performed at the Sticky Wicket Pub in Hopkinton.
A native of Melrose, Mass., Ray was a decorated veteran for his service during the Second World War including being part of the invading forces during the battle of Iwo Jima. In 1989, Ray retired from a career as a graphic designer and in 1997; he left New England for Hilton Head, South Carolina where he continued to produce his program.
Ray had an encyclopedic knowledge of ragtime, blues, swing and the great jazz of the 1920s and 30s. His passion for the music he loved was infectious. We remember Ray for his music but he was also one of the nicest and most gracious men that you could hope to meet.
Because of the archives, the show will continue both on-air and online for some time to come but we'll all miss our colleague and friend Ray Smith, our guide through the Jazz Decades.