Listen in: Wednesdays at 4pm and 8pm on Radio Sausalito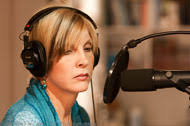 Julie Lavender brings listeners right into the family barn with its soaring posts and beams and its panoramic view of the countryside. Each week, she welcomes accomplished independent musicians and encourages their dreams, as they perform their music and talk about what inspires them. Julie also shares her own music and artistic passion.
The show features original music, breaking down barriers between musical genres to explore a broad spectrum of jazz sounds. When you come to dreamfarm, you will hear the shapes and sounds of music in a fresh way. Listeners discover an appreciation for styles and influences that may not have been accessible before.