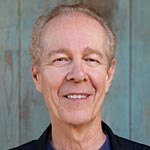 Finding The Joys of Jazz Wherever He Goes
For Immediate Release November 18, 2013
Media Contact: Jonathan Westerling – jonathan@radiosausalito.org
SAUSALITO, CA – Bob Hecht's vacation itinerary usually includes one-on-one time with great jazz artists in cities all over the world. For example, a recent trip to Europe was an opportunity not only to enjoy the City of Light, but also to share a microphone with legendary pianist and Paris resident Kirk Lightsey, past staff pianist with Motown Records. "We spent an afternoon just hanging out at his place and recording the interview," says Hecht, a veteran jazz DJ who has previously interviewed Dizzy Gillespie, Ella Fitzgerald, John Coltrane, Erroll Garner and many others.
This Friday, Hecht will launch a new show on Radio Sausalito called the Joys of Jazz. It will present carefully curated musical playlists focusing on particular themes along with occasional excerpts from his interviews with the musicians themselves. The radio show will also celebrate the works of great jazz composers, instrumentalists and singers, as well as the central role played by the Great American Songbook in enriching the jazz repertoire.
"Jazz is a joyous sound," says Hecht. "No other music so honors individual expression and freedom, nor swings so much! As Duke Ellington once observed, 'There are two kinds of music: good music and the other kind.' My show is about the good kind!" Back home in Marin, Hecht recently interviewed pianist Denny Zeitlin and talked about Zeitlin's remarkable dual careers as practicing psychiatrist and world-class jazz pianist.
This interview and many others will be interwoven with musical examples and heard on 'The Joys of Jazz.' – every Friday at 4 and 8 pm and again on Sunday at 8pm. Listeners in Southern Marin can tune in to 1610AM; in Central San Rafael to 1710AM, or anywhere via the station's new audio stream at www.radiosausalito.org.