Listen to the Radio Play!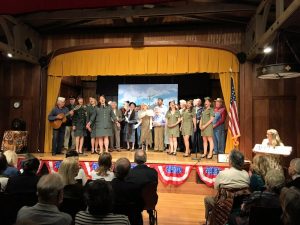 <= PLAY/PAUSE button should appear here.
75 years ago, America turned on its radio sets…and heard Sausalito. A live coast-to-coast radio broadcast commemorated the opening of the Marinship Plant which changed our community forever and employed 20,000 people through World War 2. We relive this historic broadcast through a live, modern dramatization featuring songs, stories, and comedy!
Use the player below to listen to the broadcast as it occurred live from the stage of the Sausalito Woman's Club! (The audio should start playing automatically) This radio play is a production of the Sausalito Historical Society and the Sausalito Woman's Club. It was directed by Roberta Maloy and recorded by Joe DeBellis. Here are pictures and a full list of the cast and crew that brought the performance to life.
– – –
In case of difficulties, you can download the audio directly via this link:
https://radiosausalito.org/SHS-Marinship75-PODCAST96.mp3

Podcast (founder-news): Download (Duration: 47:35 — 16.3MB)
Subscribe: RSS