Sausalito's Secret History plays several times each day on Radio Sausalito.
To see all the podcasts of Sausalito's Secret History click HERE.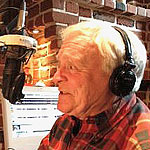 Host Larry Clinton. Photo by Jonathan Westerling.
From gangsters to bordellos, Sausalito has seen its share of incidents and characters over 240 years of existence. Join host Larry Clinton for colorful glimpses into Sausalito's Secret History.
You'll learn about the Hearst Castle that was never built, streets which are forever underwater, and how an entire shipyard sprung up here in four months. Whether you're a lifetime resident or a curious visitor, you'll enjoy learning about this special little city by the bay.
Past president of the Sausalito Historical Society, Larry Clinton is also past president of the Floating Homes Association, newsletter editor for the Marin Scuba Club, and a volunteer for the Marine Mammal Center. Larry holds a bachelor's degree from Tufts University, and had a career in financial services marketing before becoming a free-lance writer.