Live Music Line Up airs at the bottom of every hour on Radio Sausalito.

See the current local listings NOW on our LOCAL>LIVE MUSIC LINE UP page.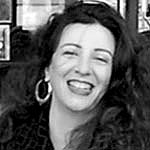 Host Mari Mack. Photo by Arne Frager.
Hosted by Mari Mack, Live Music Line Up covers the local music scene in Sausalito and Marin — what's playing today, tonight, and in the next few days. The listings are continuously updated by our partner, San Rafael-based Local Music Vibe, and can be seen on our LOCAL>LIVE MUSIC LINE UP page.
Mari Mack is a singer based in the San Francisco Bay Area by way of Lodi, New Jersey. Mari fronts the Livin' Like Kings soul and blues band (marimackmusic.com). And her 2010 CD, Can't Go Back, lays down some serious R&B, soul and blues (marimack.bandcamp.com).
Music is in her blood – Mari's birth name is "Tamburo," which means drum. Singing as a toddler, she was indoctrinated with the love of jazz and big bands by her father. Older siblings introduced her to blues, rock and R&B. And by age 18 she was paying her dues, singing in clubs all over the New York area.
With her finger on the pulse of Marin's music scene, Mari guides you to the hot spots with Live Music Line Up.