A series of short-form radio documentaries that use research and interviews to explore the city's varied landscapes, soundscapes, and even its smellscapes.
To see the all podcasts of Dock of the Bay click HERE.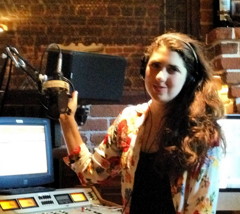 In partnership with Radio Sausalito AM 1610, each episode of Dock of the Bay: Stories of Sausalito offers a variety of insights into a singular sense of place, in this case, the city of Sausalito. Through a combination of research into native flora and fauna, conversations with long time locals and first time tourists, census information, and more, a uniqueness emerges that lets you know there is no place in the world quite like this one.
______________________________________________________________________
CONTRIBUTORS:
Every episode of Dock of the Bay: Stories of Sausalito is a production of Radio Sausalito, Southern Marin's only community radio station. Radio Sausalito broadcasts on 1610 AM in Southern Marin, 1710 AM in Central San Rafael, Simulcast on Marin County Cable TV 26, 27 and 30, and is now streaming online. Thank you to Jonathan Westerling for providing invaluable radio guidance.
Kirk Lombard provided a wealth of information on how to catch (and eat) Sausalito sea critters. For those in San Francisco, Oakland, and the South Bay, you can book a SF Bay Area coastal fishing & foraging tour with Kirk, or sign up for his Sustainable (CSF) fish & seafood delivery service at www.seaforager.com
Smellsalito tour guide Lance Winters also holds the title of Master Distiller at St George Spirits. Information about the history of the distillery, as well as where to locate St George Spirits in your home state can be found at www.stgeorgespirits.com
Sausalito's breaking news (including the weekly police log) can be found via the Sausalito Marinscope, available in print and online at www.marinscope.com/sausalito_marin_scope
Oakland-based performer Scott Vermeire is the voice of the Sausalito Police Log and of the Sausalito Ephemera Log. Visit his website at www.scottvermeire.com for up-to-date information on where you can find him in real life.
Historical Sausalito information can be found at www.sausalitohistoricalsociety.com
Many thanks to Abbot Chambers and the Sausalito Public Library for providing endless research sources and physical space in which to work. The library is located at 420 Litho Street in downtown Sausalito.
______________________________________________________________________
SPECIAL THANKS:
Endless gratitude and appreciation for all those that lent a hand, a voice, or a listening ear to help turn Dock of the Bay from an idea into a reality. Thank you to:
Misha Aziz, Van Bo, Agnes Brown, Jefre Cantu, Larry Clinton, Marianne Dolan, Ale Ekstrom, Maria Finn, Arthur Gaus, Dorothy Gibson, Brian Karl, Cathy Kossack, Soren Hemila, Maria at the Presidio Yacht Club, Marling Mast, Larry Moyer, Anna McKinnon, Elena Nommensen, Dorothy Mak, Anna McKinnon, Mr. Bill at Smitty's, Kayla Mulholland, Ed Ramirez, David Reber, Cindy Roby, Peter Romanaski and Diamond Dog, Timothy Rottenberg, David Shrigley, Robin Sweeny, Mischa Shankerman, Justin Tuma, Erin Weaver, David Weinstein, Tom Wilhite and, as always, my family.
If not for you, this project would not exist.